Product Information:
Weight: 12g/14g/16g
Size: small/medium/large
Quantity: 1Pc
Pattern: 3 patterns available
Color: red
Verdict: I've been sent this quirky lip enhancer plumper tool. I normally wouldn't buy this kinda product, but since I was sent this, I guess I'd have a go. The packaging doesn't include any instructions so you will have to go to their website and follow their instructions. My lips don't feel bruise after using them however the effect it gave me works temporarily.
Overall:
Overall, I think this is a unique product. It works temporarily but I wouldn't personally buy it to use it. It takes time to plump up and I don't think I would use it everyday since I don't enjoy the look of thick lips on me. Store communication was really great and shipping wasn't a problem at all. Shipping took about 2-3 weeks. I highly recommend checking out their products
here
!
Before you go off, here's an extra 10% off if you ever want to purchase anything from born pretty store! Simply enter the code KRYH10 at checkout.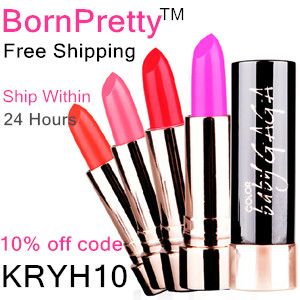 (code is valid on the items without discount)
❤ (。・ω・。)ノシ see you NEXT Time☆★