Product Information:
Type: Lipstick
Feature: long lasting
100% brand new and high quality
Weight: 50g
Color: 12 color available
Colour: I've chosen the colour in #6. A very lovely pastel, purple orchid colour. I have been always wanting to try out a shade like this. Stock photos of the bottle match but not the stock photo of swatches provided on the description. I normally use their stock photo of product as a much more accurate example of what colour I would be getting.
Application:

Pigmentation is very opaque with a good colour pay off. There is a slight soft scent but not too noticeable. This lip product applies glossy while it drys matt.
The doe foot applicator is easy to use.
Overall:
A creamy and matt liquid lipgloss/lipstick kinda product. It is drying but this can't be avoided due to it being a matt dry product. Overall, I also like the colour worn during the right occasion. Store communication was really great and shipping wasn't a problem at all. Shipping took about 2-3 weeks. I highly recommend checking out their products
here
!
Before you go off, here's an extra 10% off if you ever want to purchase anything from born pretty store! Simply enter the code KRYH10 at checkout.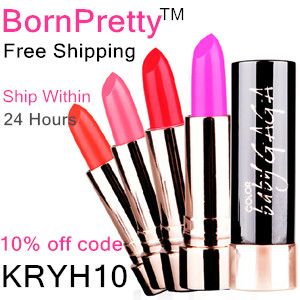 (code is valid on the items without discount)
❤ (。・ω・。)ノシ see you NEXT Time☆★