Product Information:
Type: Lipstick
Feature: long lasting
100% brand new and high quality
Weight: 50g
Capacity: 6ml
Color: 12 color available
Colour: I've chosen the colour in #11. In the stock photo, it looks like a rosy coral colour but in real life it's more of a light pink colour when applied.
Application:

It was difficult to make the lipgloss even. Sometimes it dries too quickly and it's uneven. It applies glossy while dries matte. The lipgloss comes off very easily when it comes to contact with water. It just instantly starts to peel off from my lips.
Overall:
With all honesty I just didn't get on with this product. It was difficult to get the product even on my lips. It applies glossy but dries matt. It wasn't as long lasting as I wanted. However, the packing is small and dainty which is great for travelling! Store communication was really great and shipping wasn't a problem at all. Shipping took about 2-3 weeks. I highly recommend checking out their products
here
! They have a huge range of lip products.
Before you go off, here's an extra 10% off if you ever want to purchase anything from born pretty store! Simply enter the code KRYH10 at checkout.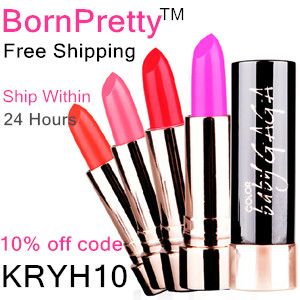 (code is valid on the items without discount)
❤ (。・ω・。)ノシ see you NEXT Time☆★