Sorry for being in haitus for awhile now! I have been really busy with university lately, handing in my final unit for my very first year of university. It's been such an amazing experience at university. If anyone wants me to blog about it? Leave a comment below. Now let's get on with this long overdue review!
Product Information:
100% new retail
Material: Aluminum
Capacity: 5ml
Diameter: 1.45cm
Height: 10.4cm
Color: 7 colors available
Pros: I love the colour that I've picked! They come in 7 different variety of colour which you can pick from black, purple, red, silver, golden, blue and pink. It's small and portable and easy to be placed in your handbag. The top screws on easily ensuring perfume don't leak. It's tall and slim so you can get quite a lot of product in one go. You also get a slot to see how much perfume you have left which I love.
Cons: None! I'm pretty satisfied with my new refillable perfume bottle!
Overall:
Before you go off, here's an extra 10% off if you ever want to purchase anything from born pretty store! Simply enter the code KRYH10 at checkout.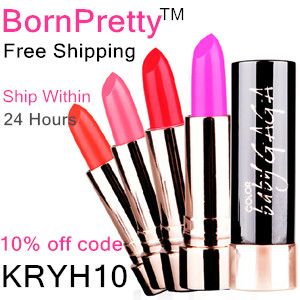 (code is valid on the items without discount)
❤ (。・ω・。)ノシ see you NEXT Time☆★