I'm back again with another born pretty store review! Alicia from born pretty store has been very lovely recently and sent me a few products to review again. Let's get on with the review!


Product Information:
Type: Powder
Weight: 50g
Quantity: 1Pc
Color: 5 Colors available
Colour: I've chosen the colour in #1. This blusher comes with two colour, a pretty pink and a lovely flattering peach. I really like the colours because they are matte, versatile, and you can use this in different looks. A light hand is enough to apply it on your cheeks, remember to blend it out throughly!
Application:

Both blush formula applies smoothly and easily. It's very very pigmented! You just need a very light hand while applying this blusher if not you'll look like a clown. There is however a little fall out but if you tap off the excess you'll be fine.
Durability:

Blusher stayed on about half a day. Long lasting considering for it's price.
Packaging:

When I first received it, I was assuming it was only one blush but then it has a hidden compartment with two blush in it! It also has a mini brush, which makes it portable however it's not very good in quality, but I don't use the brush anyway. It also includes a good sized mirror. Blusher feels sturdy, however it's a little bit bulky.
Overall:
Super super pigmented! What more can I say? I'm really impressed! It does have a strange powdery scent but it doesn't put me off this blusher. This dual blusher is only $3.99! Store communication was really great as always and shipping wasn't a problem at all. Shipping took around 2-3 weeks. I recommend checking out their products
here
!
Before you go off, here's an extra 10% off if you ever want to purchase anything from born pretty store! Simply enter the code KRYH10 at checkout.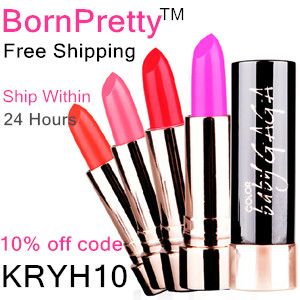 (code is valid on the items without discount)
❤ (。・ω・。)ノシ see you NEXT Time☆★