Product Information:
Price: USD$2.99
Type: Lipstick
Feature: long lasting
100% brand new and high quality
Weight: 50g
Color: 3 color available
Swatch on hand with natural light.
Applied on lips with natural light.
Colour: I've decided to go out my comfort zone and I've chosen the colour in #3. It's a bright, lovely orange! I have to be honest, it doesn't look like the stock photo swatches provided. It's much more pigmented, however the colour is accurate to the product image. This colour is perfect for summer time!
Application:

The lipstick glides on smoothly.
It is also surprising moisturising and v
ery o
paque as well.
Durability:

This lipstick lasted on my lips for a good few hours.
Packaging:

A very well made lipstick bullet. The cap stays on very well and it's very sturdy as well.
Overall:
This vibrant orange is perfect for summer! I really enjoy using this lipstick. No scent for this lipstick which is perfect for me. Moisturising and long lasting as well. Store communication was really great and shipping wasn't a problem at all. Shipping took about 2-3 weeks. I recommend checking out their products
here
!
Before you go off, here's an extra 10% off if you ever want to purchase anything from born pretty store! Simply enter the code KRYH10 at checkout.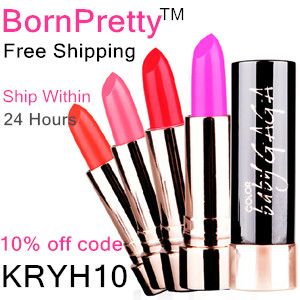 (code is valid on the items without discount)
❤ (。・ω・。)ノシ see you NEXT Time☆★