[ SPONSORED ]
Born pretty store
Product Information:
Weight: 50g
Color: 3 colors selectable
Quantity: 1Pc
Colour: I've chosen the colour in #4. It's a pinky coral natural nude. It's a very natural pink and I was able to use it with my Natural collection lipstick in Rose Petal.
Application:

Opaque and true to colour. It is a little bit drying on lips however lines my lip really well. Staying power is decent, you have to reapply during about half a day. No scent which is good.
Overall:
This is a decent lip liner, the only thing I don't like about it, is that it isn't moisturising enough but apart from that, I really like the colour and it works well with my current nude lipstick. Store communication was really great and shipping wasn't a problem at all. Shipping took about 2-3 weeks. I highly recommend checking out their products
here
! They have a huge range of lip products.
Before you go off, here's an extra 10% off if you ever want to purchase anything from born pretty store! Simply enter the code KRYH10 at checkout.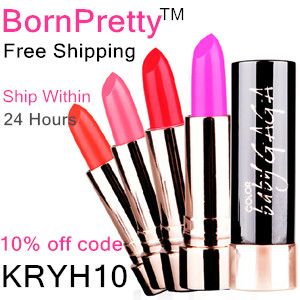 (code is valid on the items without discount)
❤ (。・ω・。)ノシ see you NEXT Time☆★