[ SPONSORED ]
Born pretty store
Recently
bornprettystore
contacted me to do a review! They kindly sponsored me a few products to review and I am delighted to work with them. If you haven't know, bornprettystore is quite a well known beauty store online that sells affordable products such as Nail Art, Makeup, Jewellery, Watches and more. They also offer worldwide free shipping. Now let's get on with the review!
Product Information:
Price: USD$2.99
Feature: long lasting
100% brand new
High quality
I chosen the shade in #1 Peach.
Swatch on hand with natural light.
Applied on lips with natural light.
Colour: I chosen the colour in #1 Peach. When I first received the lip balm, I was kind of shock of how bright the colour actually is. The colour is definitely true to stock photos provided. However, when I swatch it, I was relief to found it sheer and buildable. It leaves my lips with natural pink tinted lips which I really enjoy while you can use this everyday as well.
Scent:

I was expecting a peach scent/flavour however this product does not have any scent/flavour to it. Quite disappointed but I am not too fussed about it because it's such a pretty colour.
Application:

I really like the buttery and soft application. It's like a combination of lipstick and lip balm together. Very much like my Revlon suedes however less pigmented. It's moisturising as well.
Durability:

Original colour didn't stay long however it did leave my lips with a pink tint which is very natural and flattering.
Packaging:

I really like the rose gold handle and the peach coloured bullet. It's a very cute, simple design and very well made.
Shipping:

Product was sent out during 21st JAN 2014. I received it on 3rd FEB 2014. So shipping only took 2 weeks which is quick considering it being sent from Asia.
Overall:
For $2.99 it's actually not bad for it's product. I really enjoy using the lip balm, I like the cute pink colour which I can use during day or night. Store communication was really great and shipping wasn't a problem at all. I highly recommend checking out their products
here
!
Before you go off, here's an extra 10% off if you ever want to purchase anything from born pretty store! Simply enter the code KRYH10 at checkout.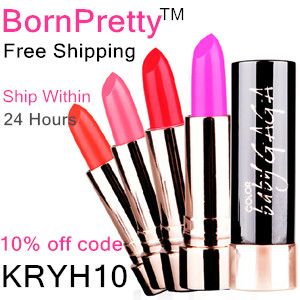 (code is valid on the items without discount)
❤ (。・ω・。)ノシ see you NEXT Time☆★