[ SPONSORED ]
Born pretty store
Hey everyone! I was recently sent an eyebrow palette from
bornprettystore
so now I'm gonna review it.
Product Information:
Price: USD$3.99
Type: Powder
Weight: 50g
Pattern: 3 patterns available
Color: 3 Colors
Swatch on hand with natural light.
Applied on eyebrow with natural light. (I just started learning to draw my brows so excuse my skills)

Colour: I've chosen the colour in #1. The pigmentation really great! Colours can be built up so it's great depending on how dark or light you want your brows to be.
Application:

There is a little bit of fall out when using the brow shadow but when I tap the excess off, all is fine. Blends really well as well.
Durability:

The brow shadow surprisingly lasts really long! It stayed on pretty much the whole day I was out.
Packaging:

Cute cute cute! Reminds me of Dolly Wink's packaging. I love how girly it is, moreover, it is sturdy. I like the size of the mirror as well. I didn't use the eyebrow shadow brushes so I can't really say much about it. I prefer using my own angle brush when applying the eyebrow shadow.
Shipping:

Product was sent out during 21st JAN 2014. I received it on 3rd FEB 2014. So shipping only took 2 weeks which is quick considering it being sent from Asia.
Overall:
I wasn't expecting a lot from this palette but I am very impressed! The brand is called Fairy Girl, made from Japan. It's my first time hearing this brand. I really enjoy using this eyebrow palette. The pigmentations is great, blends well and colour is perfect for my brows.
For
$3.99 it's really a bargain!
Store communication was really great and shipping wasn't a problem at all. I highly recommend checking out their products
here
!
Before you go off, here's an extra 10% off if you ever want to purchase anything from born pretty store! Simply enter the code KRYH10 at checkout.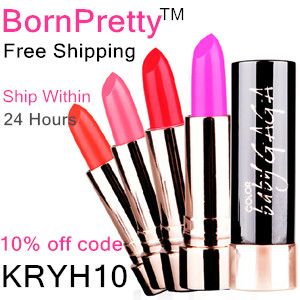 (code is valid on the items without discount)
❤ (。・ω・。)ノシ see you NEXT Time☆★